TORONTO, ONTARIO
- Tsodilo Resources Limited ("Tsodilo") (TSX Venture Exchange: TSD) is pleased to announce the results of their 2004 exploration campaign, their conclusions and planned exploration for 2005 in both their Gcwihaba (Pty) Ltd and Newdico (Pty) Limited license blocks in Botswana.
Nxau Nxau Kimberlite Field
Gravity and magnetic grid surveys were performed over six selected airborne magnetic anomalies within the Nxau Nxau kimberlite field to better define the geophysical interpretation and model the suspected kimberlite intrusives. The 1 km x 1 km. grids were orientated N-S with line spacing of 250m and 50m station spacing. Airborne anomalies 1821C12, A15, A16, A41, 1821C15 and 1821C9 were surveyed and used in a prioritization exercise together with the loam sampling results to direct the drilling campaign.
The October and November 2004 drilling campaign in the Nxau Nxau field evaluated five of the high-priority targets where all the above evidence suggested the presence of kimberlitic intrusive rocks. A further two drill holes were directed at obtaining further samples from the known A37 kimberlite, to sample coarser crater sediments and/or kimberlite with the objective of reaching a decision as to the probability of achieving a positive micro-diamond result. The results of this drill campaign are summarized in Table 1 below.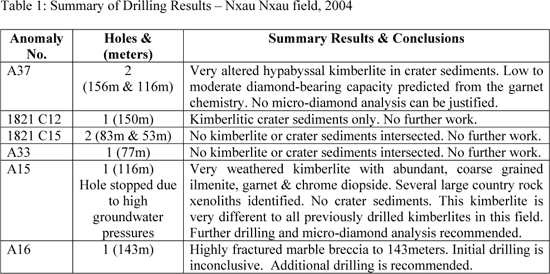 It should be noted that the A15 kimberlite is very different from the other 23 kimberlite intrusives intersected to date in the Nxau Nxau field. The lack of crater sediments and deep weathering suggests that the upper portion of the kimberlite has been eroded off and that we are intersecting the base of the crater with several kimberlite lapilli identified in the petrographic examination. This may indicate an older kimberlite intrusive event. Furthermore, the abundance of garnet and chrome diopside grains in the drill cuttings contrasts with the preponderance of ilmenite found in the other kimberlites. The A15 kimberlite is, therefore, older and compositionally different from the other 23 kimberlites investigated in the cluster to date.
A sample of the picked garnet, chrome diopside and ilmenite grains recovered from A15 were photographed and posted to the Company's website on December 8, 2004 (See, Image Gallery - A15 - Kimberlite Indicator Minerals (KIMs)). As background, there are two broad groups of garnet in kimberlite - the peridotitic and eclogitic suites. A subset of compositions from both suites can occur as inclusions in diamonds, and the presence of either or both subsets provides strong encouragement that the kimberlite has sampled the diamond stability field. Peridotite garnet (G9 and G10), tends to vary in color from red to purple (G9 compositions) to lilac (G10 garnet). The G10 garnet grains are the diamond inclusion compositions for the peridotitic suite and are characterized by Ca-poor, Cr-rich compositions relative to the G9 peridotitic garnet. The presence of G10 garnet thus provides good evidence that the kimberlite has sampled the diamond stability field. Eclogitic garnet tends to have yellow to orange colors. Diamond inclusion eclogitic garnet is Ti-poor, but has relatively high Na2O (>0.7% Na2O).
A sample split of garnet, chrome diopside and ilmenite grains were submitted to the Euclid Geometrics Laboratory ("Euclid or Euclid's") in Canada for electron microprobe analysis. Utilizing proprietary methods of microprobe mineral analysis, the lab was able to achieve accuracy to within 1%.
Preliminary and partial results from Euclid's study are:
G10 and G9 garnet, along with eclogitic garnet from the diamond stability field, were identified from the sample submitted using electron microprobe analysis.
For the A15 pyropes, the element trends readily distinguish garnet from four types of rock: 1) a high-grade metamorphic rock that did not equilibrate with Cr-rich kimberlite magma; 2) a compositionally homogeneous megacrystic rock with low Cr (0.0-0.1 Cr apfu), possibly eclogite; 3) a peridotite affected by Al-1Cr (0.08-0.33 Cr apfu), with minor Mg-1Fe at constant Ca indicating reaction with olivine; and 4) another peridotite affected by Al-1Cr (0.13-0.41 Cr apfu), with major Mg-1Ca at constant Fe indicating an influx of carbonate melt and transport.
The pyrope garnet chemistry indicates derivation from a number of rock types and the compositional trends indicate a changing compositional and pressure environment. Diamond and graphite are only stable in a reduced environment, indicated in the A15 samples by Fe2+ >> Fe3+ and by low concentrations of H. The pyrope has a reduced crystal chemistry, with Fe2+ >> Fe3+, Ti3+ >> Ti4+, and minor X-site Cr2+, indicating an environment favorable to diamond formation and preservation.
The reduced crystal chemistry of the chrome diopside grains is consistent with garnet from this location and indicates stability with reduced carbon and a positive preservation potential for diamond.
The A15 diopside grains exhibit enrichment in Na due to a high-pressure jadeite substitution. This substitution is rare in diopside from kimberlite, but is found at other diamond-rich kimberlite deposits and indicates a Na-rich rock subjected to very high pressure. For a 40mW/m2 regional geotherm, the range of pressure is from 750 °C at 31 kbar (110 km) to 1200 °C at 64 kbar (210 km). The majority of diopside grains probed plot in the diamond stability field.
Euclid's analyses of the ilmenite grains from A15 reflect a distinct reducing environment that is conducive to good diamond preservation.
"This is only a preliminary finding on a statistically small sample of indicator grains, but there is sufficient encouragement in the results to conclude that further drilling and sampling of A15 is warranted with the aim of sending a representative sample of this kimberlite to the Saskatchewan Research Council Laboratories for micro-diamond analysis. We have made arrangements to begin drilling on A15 in the first week of May in order to obtain better volume and quality samples for analysis" commented James M. Bruchs, President & CEO.
A further press release will be issued once the complete report from the Euclid Geometrics Laboratory has been received.
Border Gravity Survey and Drill Program
The gravity traverse surveyed along a 30 km portion of the Namibian border straddles a prominent linear satellite image feature (See under "Images" on the Company website the area indicated on the satellite imagery as Border gravity points). The gravity results were interpreted by the geophysical consultant as possibly reflecting two pre-Kalahari paleochannels. A series of 19 shallow drill holes along this border section indicated that this interpretation was incorrect and that there was no sign of any alluvial sediment in the Kalahari section or any paleochannel erosion of the basement rocks. We conclude that the late-Cretaceous aged (90 Mybp) drainage(s) that deposited kimberlite indicator minerals and diamonds into the Etosha basin at Tsumkwe, some 40 km west of the border, has subsequently been eroded by scarp retreat of the much younger Miocene-aged (5 Mybp) easterly flowing streams that drained into the Okavango-Makgadigadi basin.
Drilling is planned across the eastern end of the satellite feature in order to intersect the younger Miocene-aged alluvial sediment in the Kalahari below the recent aeolian cover in order to pick up the trail of indicator minerals that may lead to the primary source of the Tsumkwe G10 garnets and macro-diamonds.
Guma District Anomalies
The geophysical contractors completed ground gravity and magnetic surveys over three selected airborne magnetic anomalies in the Guma District where further singleton G9 lherzolitic garnet grains were recovered from loam sampling during 2004. Although the Company planned to drill these targets during the 2004 campaign, various delays resulted in postponement and drill testing of the Guma anomalies will be an early priority in the 2005 program, scheduled to start in early May.
In total, 10 singleton ilmenite and 11 singleton G9 garnet grains have been recovered from sampling within the roughly 40 km x 40 km block which comprises the Guma field. The geophysical contractors are currently busy with an additional four ground magnetic and gravity grids in this field. Once that is complete, targets will be selected for drill testing.
Regional Airborne Magnetic Surveys
A geophysical consultant has been commissioned to assist with the complete revision and priority rating of airborne magnetic targets in the light of the 2004 drilling results, particularly that of A15. In addition to this, the Company is determining the most appropriate and cost effective method of airborne surveying across the dyke swarm zone where the high amplitude response of the dolerite dykes masks any subtle magnetic anomalies, characteristic of kimberlitic intrusive rocks. Consultations with various geophysical contractors to perform the very low altitude and close line spacing survey required to define these subtle magnetic signatures within the "noisy" dyke swarm zone is advanced and a decision will be reached in the near future.
Gcwihaba License Area
Drilling on target 2021 B4, a co-incident gravity, ground magnetic and loam sampling anomaly (a single diamond inclusion eclogitic garnet) intersected magnetite quartzite below 158 meters of Kalahari cover. This result explains the magnetic anomaly but fails to explain the singleton diamond inclusion eclogitic garnet.
The Company intends, as a lower priority, to perform further drilling at this target and at the other targets in the northern Gcwihaba ground for which ground gravity and magnetic surveys have already been performed.
Tsodilo Resources Limited is an international diamond exploration company engaged in the search for economic kimberlites at its Newdico and Gcwihaba projects in northwest Botswana. The Republic of Botswana is the largest producer of diamonds, by value, in the world. Tsodilo has an 81% stake in Newdico while Trans Hex Group, a South African diamond mining and marketing company, holds the remaining 19%. The southern Gcwihaba Project area is 100% held by Tsodilo subsidiary Gcwihaba Resources (Pty) Limited. Tsodilo manages the exploration of both license areas. The design and conduct of the Company's exploration program is the responsibility of Peter Walker, a professional geologist registered with the South African Council for Natural Scientific Professions. Please visit the website, www.TsodiloResources.com, for additional information and background on our projects.
The TSX Venture Exchange has not reviewed and does not accept responsibility for the adequacy or accuracy of this news release. This news release may contain assumptions, estimates, and other forward-looking statements regarding future events. Such forward-looking statements involve inherent risks and uncertainties and are subject to factors, many of which are beyond the Company's control, which may cause actual results or performance to differ materially from those currently anticipated in such statements.
FOR FURTHER INFORMATION PLEASE CONTACT:
James M. Bruchs - President and Chief Executive Officer:
E-Mail JBruchs@TsodiloResources.com
Head Office:
Telephone +1 416 572 2033
Facsimile + 1 416 5724164