TORONTO, ONTARIO
- Tsodilo Resources Limited ("Tsodilo" or the "Company") (TSX Venture Exchange: TSD) is pleased to announce that the Phase 1 - Exploration Reconnaissance Program ("Phase 1") across its Metals (Base and Precious, Platinum Group Metals, and Rare Earth Elements) Prospecting Licenses in Ngamiland in northwest Botswana has been completed.
Highlights of Phase 1 are as follows:
111 holes drilled to a cumulative depth of 20.9 kilometers (13 miles).
16,358 line kilometers (10,165 miles) of a ground magnetic survey at 20 and 50 meter line spacing have been completed.
9,777 line kilometers (6,075 miles) of time-domain electromagnetic data (VTEM) have been processed and analyzed.
6,195 samples from 51 HQ and NQ diamond drill core holes have been submitted for assaying to Scientific Services and ALS Minerals. Most of the results have been received.
174 petrographic samples from various cores have been described. The results from 60 additional samples are still outstanding.
200 samples have been submitted to the University of Barcelona for detailed mineralogical studies.
Zircons from three core samples were dated by the U/Pb isotope method using the Laser-Ablasion ICP-MS technology at AEON in Cape Town.
Four (4) different mineralized target areas have been identified: the Xaudum Magnetic Anomaly, the Central Shale Basin, Skarn deposits and large alkaline (?) intrusions.
The Company's licenses are situated in an area where the mineral-rich provinces of the Ghanzi belt to the south, the Luffillian Arc to the north-east and the Damara Belt to the west, converge in a complex geological setting. Kalahari sedimentary cover over this region has discouraged mineral exploration in the past because there are no rocks outcropping on surface. But geophysical data, in the form of high resolution Airborne Magnetic and VTEM Electromagnetic surveys combined with Ground Magnetic data that is continuously acquired and interpreted by in-house geophysical expertise, have been used to focus the drilling program on the various conductive and magnetic zones. The drilling portion of
Phase 1
was completed utilizing the Company's own diamond core drill rig. A total of 111 holes to a cumulative depth of 20.9 kilometers have now been drilled for base and precious metals across the various geological terrains. The target area in the Ngamiland has been restricted to 4,500km
2
which equates to roughly 1 borehole per 40km
2
. Prior to any drilling, detailed magnetic surveys (between 20 and 50 meter line spacing) are being conducted using the latest Geometrics G-859 Cesium vapor magnetometers to optimize the drill intersections over the magnetic targets.
The use and interpretation of the VTEM data has identified important conductors particularly in the Central Shale Belt. The magnetic susceptibility of pyrrhotite in many of the black shales, metapelites and metapsammites are used to follow those zones outside the areas of VTEM coverage.
The mineralogical work that has so far been done at the University of Barcelona points to a complex paragenesis due to multiple episodes of metamorphism and metasomatism. The mineralization is found in quartz-sulfide-carbonate veins and is disseminated in the host metapelites and metapsammites. The host rock is affected by Cl-rich alkaline alteration, producing the development of scapolite, in association with albite, biotite, chlorite, allanite, ankerite and calcite. The host rocks are rich in graphite, and the reducing environment was probably an effective trap for the redox-sensitive elements. The dominant ore is pyrrhotite which was replaced in late stages by pyrite, thus indicating an increase in the sulfur fugacity. Potentially economic ore minerals identified are native gold, chalcopyrite, and silver tellurides. The analyzed samples examined point to the existence of Cu-Au orogenic deposits.
Routine petrography is conducted on selected samples from each borehole mainly by Microsearch CC, but also through the University of Cape Town and Rhodes University in Grahamstown. These data is fed into the Company's GIS-Gocad system, enabling the geological model to be continuously upgraded.
The first geological ages have been produced by AEON at the University of Cape Town using the state-of-the-art Laser-Ablation Multi-Collector Inductively Coupled Plasma Mass Spectrometer (LA-MC-ICP-MS). Three different 207Pb/206Pb weighted mean ages were obtained from analyses of magmatic zircons, which showed no evidence of metamorphic overprinting. A Neoarchean 207Pb/206Pb weighted mean age of 2548±65Ma indicates for the first time the presence of Archean rocks in the area. Combined with evidence of west-directed thrusting, this age suggests thrusting of cratonic material into the Pan African belt, or subduction of the Congo Craton beneath the Kalahari Craton. A granitic-gneiss of 1979±92Ma, can be correlated with the nearby Quangwadum and Okwa complexes suggesting the possibility of a large cryptic mineralised mafic intrusion in the region. A metabasite suspected to be similar to the MAB amphibolites yielded a 207Pb/206Pb weighted mean emplacement age of 535±36Ma, which is younger than the emplacement of the MAB submarine tholeiitic protoliths (c.650-700Ma) and is accordingly interpreted to represent subducted tholeiitic oceanic crust which has been rejuvenated to be extruded as island arc alkaline magmas.
The Company has used the following two laboratories for its assay requirements: Scientific Services CC in Cape Town and ALS Minerals (part of ALS Chemex South Africa (Pty) Ltd) in Johannesburg. Assay techniques applied were by, AAS (Cu, Zn, Co, Ni), ICP-AES (REE) and XRF (Mo, REE) by Scientific Services, and ICP23 (PGM), ME-ICP61 (33 elements), Cu-OG62 (Cu) and ME-MS81 (REE) by ALS Minerals. Selected results from various boreholes are plotted on Map 1. The minerals within the blue boxes have been observed in petrographic sections.
Map 1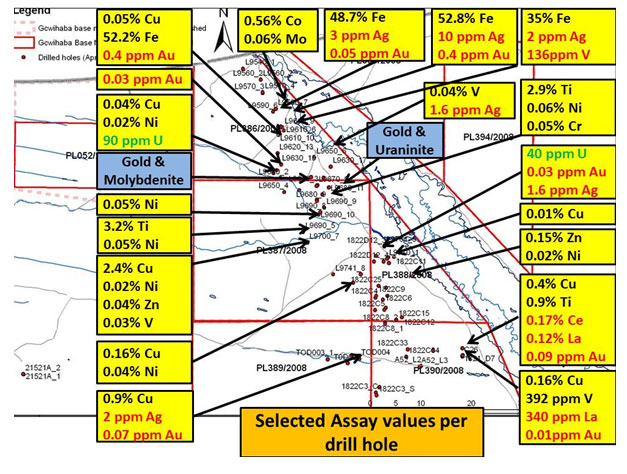 During
Phase 1
, several different geological domains with anomalous mineralized zones were identified. These deposits will now be subjected to more detail drilling during the
Phase 2 First-Stage Evaluation Program ("Phase 2")
, in order to define the mineralization models and the geological boundaries that constrain each target, more accurately. To accelerate Phase 2, which will run in parallel to other drilling requirements over base and precious mineral Prospecting Licenses east of the Okavango River and its diamond and uranium exploration programs, the Company has purchased a second 6x6 truck mounted diamond drill rig supported by three 6x6 fuel, water and rod carrier trucks which will be commissioned in July.
The main different mineralization targets (Map 2) that have been identified so far include:
The Xaudum Magnetic Anomaly in most northern part of the prospecting area comprises a sequence of banded magnetite is interbedded with high-grade metamorphic garnet-schists in a belt which stretches over some 50km. Iron in many of the assay results are up to 53%. Anomalous results for Ag (10 ppm), Au (0.4ppm), U (90ppm), Ni (0.06%), Mo (0.06%) and Co (0.56%) have been obtained from some of the assay results. Molybdenite, Uraninite and Gold have been described as individual minerals in petrographic sections. The presence of low-Titanium magnetite, large thrust faults, and local albite alteration in some of the borehole suggest that the mineralization of this area can best be explained by an Iron-Oxide Copper Gold ("IOCG") complex.
The north-south orientated Central Shale Basin (CSB) which occurs east and south-east of the Xaudum Magnetite Belt is comprised of black shales, metapelites, meta-psammites, evaporates and carbonates. These rocks are identical to those described from the Kalumbila Cu-Ni-Co deposit to the north of Ngamiland and others from the Luffillian Arc. Selected assay results from various boreholes in the Central Shale Basin (CSB) have reported Cu (2.4%), Ni (0.06%), Zn (0.15%) and Ti (3.2%) which are associated with U (40 ppm), Au (0.03ppm) and Ag (1.6ppm). This belt, parallel to the Xaudum magnetites can be traced over some 80 kilometers. Conductors are its main targets and these are clearly visible from the VTEM data. Anomalous zones will now be targeted during the Phase 2 drilling program.
Skarn deposits associated with metabasites and carbonates have been recognized in several boreholes around site 1822C26 and on site C25 and occur just south of the CSB. In this area selected assay results have returned Cu (0.9%), Ag (2ppm), Au (0.09ppm), Ti (0.9%) and LREE (0.17% Ce and 0.12% La). Detailed ground magnetic surveys are being carried out over these basic rocks which translate into clearly defined magnetic signatures.
More to the south and directly west of the extension of the Matchless Amphibolite Belt (MAB) the company will be drilling one of several large monopole magnetic anomalies modeled as a large alkaline (?) intrusion. Ni and Cu soil anomalies have been generated from the 1997-1999 government sampling program.
Map 2
The Company has offices in Toronto, Canada and Gaborone and Maun, Botswana. Please visit the Company's website,
www.TsodiloResources.com
, for additional information and background on our projects.
National Instrument 43-101 - Standards of Disclosure for Mineral Projects, Form 43-101F1 and Companion Policy 43-101CP requires that the following disclosure be made: All references contained herein with respect to the potential quantity and grade derived by any method is at this stage of development conceptual in nature. At the present time, there has been insufficient exploration to define a mineral resource and it is uncertain if further exploration will result in the target being delineated as a mineral resource.
This press release contains forward-looking statements. All statements, other than statements of historical fact, that address activities, events or developments that the Company believes, expects or anticipates will or may occur in the future (including, without limitation, statements relating to the development of the Company's projects) are forward-looking statements. These forward-looking statements reflect the current expectations or beliefs of the Company based on information currently available to the Company. Forward-looking statements are subject to a number of risks and uncertainties that may cause the actual results of the Company to differ materially from those discussed in the forward-looking statements, and even if such actual results are realized or substantially realized, there can be no assurance that they will have the expected consequences to, or effects on the Company. Factors that could cause actual results or events to differ materially from current expectations include, among other things, changes in equity markets, political developments in Botswana and surrounding countries, changes to regulations affecting the Company's activities, uncertainties relating to the availability and costs of financing needed in the future, the uncertainties involved in interpreting exploration results and the other risks involved in the mineral exploration business. Any forward-looking statement speaks only as of the date on which it is made and, except as may be required by applicable securities laws, the Company disclaims any intent or obligation to update any forward-looking statement, whether as a result of new information, future events or results or otherwise. Although the Company believes that the assumptions inherent in the forward-looking statements are reasonable, forward-looking statements are not guarantees of future performance and accordingly undue reliance should not be put on such statements due to the inherent uncertainty therein.

The TSX Venture Exchange has not reviewed and does not accept responsibility for the adequacy or accuracy of this news release. This news release may contain assumptions, estimates, and other forward-looking statements regarding future events. Such forward-looking statements involve inherent risks and uncertainties and are subject to factors, many of which are beyond the Company's control, which may cause actual results or performance to differ materially from those currently anticipated in such statements.
FOR FURTHER INFORMATION PLEASE CONTACT:
James M. Bruchs
Chairman and Chief Executive Officer
JBruchs@TsodiloResources.com
Dr. Mike de Wit
President and Chief Operating Officer
MdeWit@TsodiloResources.com
Head Office
Telephone +1 416 572 2033
Facsimile + 1 416 987 4369
Website
http://www.TsodiloResources.com