TORONTO, CANADA - Tsodilo Resources Limited (TSX Venture Exchange: TSD) ("Tsodilo" or the "Company") is pleased to announce that First Quantum Minerals ("FQM") initial drilling program has recently commenced. The drilling program will take place on metal licenses held by Tsodilo which form the project area of the strategic partnership between TSD and FQM announced on April 18, 2013.
Diamond Drilling (DD)
One DD rig will drill 'fences' across prospective targets such as fault intersections for the purpose of increasing the knowledge of the basin stratigraphy and structure. Holes will be inclined thus providing oriented core; spaced 500 to 2,000 meters apart; and 300 -- 700 meters in depth. Fences will traverse key geological contacts and will for the most-part be oriented in an east-west direction.
The initial program of nine holes will take between two and four months to complete. Figure 1 below shows the two priority areas for diamond drilling.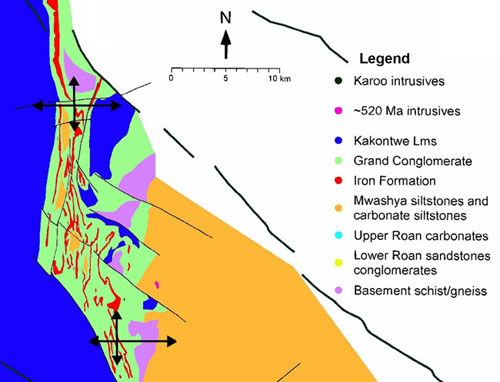 Figure 1
.
Locations of initial diamond drilling 'fences', designed to test
conceptual targets and increase of understanding of the regional geology.
http://www.tsodiloresources.com/i/pdf/2013-09-12_NR-Fig1.pdf
Reverse Circulation (RC) Drilling
RC drilling will be sampling the transported cover -- the Kalahari Group -- testing for metal anomalism which may originate from buried mineralization in the Neoproterozoic 'basement'.
The RC drilling will work an offset grid pattern with lines spaced 2km apart as per Figure 2 below and average 50 meters deep with a following diamond 'tail' when selected. The RC drill program envisions two-hundred fifty (250) holes to be drilled in priority areas to outline deposit footprints with further areas to be covered if the technique proves successful
Samples of Kalahari sand will be split and composited into 2 meter samples on the drill rig, and then sieved to a 180 micron fraction. This fine fraction will be depleted in quartz grains and enriched in metal-adsorbing clays and iron-oxides. Samples will be assayed for trace Cu, Ni, Au and accessory metals. The diamond drill 'tail' will collect a small (1 to 6 meters long) core sample from the Neoproterozoic basement.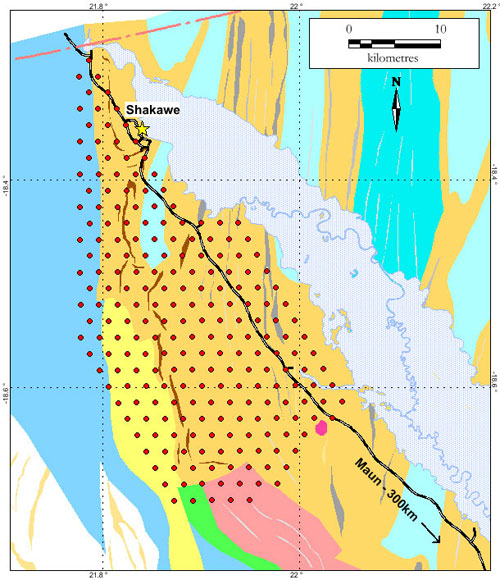 Figure 2. RC drilling program grid.
http://www.tsodiloresources.com/i/pdf/2013-09-12_NR-Fig2.pdf
About Tsodilo Resources Limited:
Tsodilo Resources Limited is an international diamond and metals exploration company engaged in the search for economic diamond and metal deposits at its Newdico (Pty) Limited ("Newdico") and Gcwihaba Resources (Pty) Limited ("Gcwihaba") projects in northwest Botswana. The Company has a 98% stake in Newdico (895 km² under Precious Stone - diamond licenses). The Gcwihaba project area: 2,404 km² under Precious Stone - diamond licenses; 11,158 km² Metal (base, precious, platinum group, and rare earth) licenses; and, 6,925 km² under Radioactive Minerals licenses is 100% held by the Company. Tsodilo manages the exploration of both the Newdico and Gcwihaba license areas. Overall supervision of the Company's exploration program is the responsibility of Dr. Mike de Wit, President and COO of the Company and a "qualified person" as such term is defined in National Instrument 43-101. Dr. de Wit has reviewed the information contained herein and approved the contents of this Press Release.
The Company has offices in Toronto, Canada and Gaborone and Maun, Botswana. Please visit the Company's website,
www.TsodiloResources.com
, for additional information and background on our projects.
National Instrument 43-101 - Standards of Disclosure for Mineral Projects, Form 43-101F1 and Companion Policy 43-101CP requires that the following disclosure be made: All references contained herein with respect to the potential quantity and grade derived by any method is at this stage of development conceptual in nature. At the present time, there has been insufficient exploration to define a mineral resource and it is uncertain if further exploration will result in the target being delineated as a mineral resource.

This press release contains forward-looking statements. All statements, other than statements of historical fact, that address activities, events or developments that the Company believes, expects or anticipates will or may occur in the future (including, without limitation, statements relating to the development of the Company's projects) are forward-looking statements. These forward-looking statements reflect the current expectations or beliefs of the Company based on information currently available to the Company. Forward-looking statements are subject to a number of risks and uncertainties that may cause the actual results of the Company to differ materially from those discussed in the forward-looking statements, and even if such actual results are realized or substantially realized, there can be no assurance that they will have the expected consequences to, or effects on the Company. Factors that could cause actual results or events to differ materially from current expectations include, among other things, changes in equity markets, political developments in Botswana and surrounding countries, changes to regulations affecting the Company's activities, uncertainties relating to the availability and costs of financing needed in the future, the uncertainties involved in interpreting exploration results and the other risks involved in the mineral exploration business. Any forward-looking statement speaks only as of the date on which it is made and, except as may be required by applicable securities laws, the Company disclaims any intent or obligation to update any forward-looking statement, whether as a result of new information, future events or results or otherwise. Although the Company believes that the assumptions inherent in the forward-looking statements are reasonable, forward-looking statements are not guarantees of future performance and accordingly undue reliance should not be put on such statements due to the inherent uncertainty therein.

The TSX Venture Exchange has not reviewed and does not accept responsibility for the adequacy or accuracy of this news release. This news release may contain assumptions, estimates, and other forward-looking statements regarding future events. Such forward-looking statements involve inherent risks and uncertainties and are subject to factors, many of which are beyond the Company's control, which may cause actual results or performance to differ materially from those currently anticipated in such statements.
FOR FURTHER INFORMATION PLEASE CONTACT:
| | | |
| --- | --- | --- |
| James� M. Bruchs | Chairman and Chief Executive Officer | |
| Dr. Mike de Wit | President and Chief Operating Officer | MdeWit@TsodiloResources.com |
| Head Office | Telephone +1 416 572 2033 | Facsimile + 1 416 987 4369 |
| Website | http://www.TsodiloResources.com | |